Jogging
My husband and I have been jogging together and I'd  say Im a pretty lucky lady!  He's always just a head of me and I have my music playing but its the fact that we are doing it together.  We encourage each other to get going before sunrise and give each other a high five when we are done. We will be married 25 years next month and the only advise I can give you is one day your kids will be gone and you will need to do something together that keeps you connected as a couple.
Creations 
Well its been all about socks for me this summer! As soon as I have a pair off my needles Im casting on another pair. I really like doing each section of the sock at the same time. I'll cast on one sock and complete the ribbing, then cast on the other sock and complete the ribbing. Then Ill do the leg, heel, foot and toe the same way. I love the class My First Socks  by Lucy Neatby! Ive been knitting socks for years but I love how she fixes the hole at the heel flap. Here are a few pairs I've done over the summer.
I've also been creating stitch markers with the cutest keepsake charm from OnaQuestforFiber. Click here to buy.

I have to tell you that I also found something almost as cute as my bunnies! Mrs. Bakery Bear.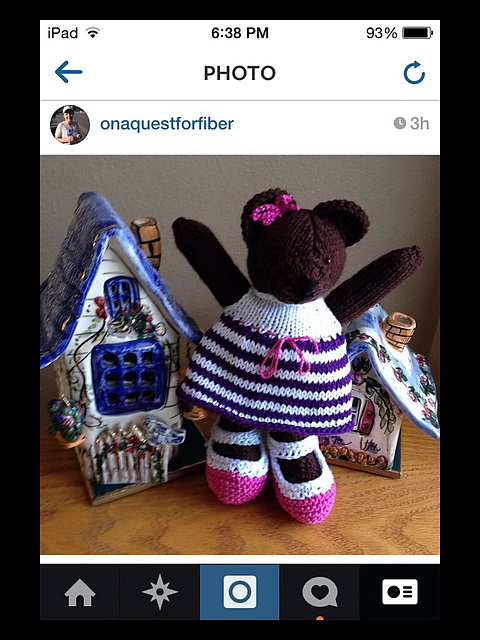 Check out Bakery Bear Podcast with Dan and Kay from England. Wonderful, educational, and entertaining episodes!
Of course I have left the best for last...my angora blended fiber. I thank you for all your wonderful comments.
Type 1
Keep strong!